Community Involvement
Jim is the Head Sophmore Football Coach at Davenport Central High School (Davenport IA).  May 2011 to present.  He loves the opportunity to educate the young men on the sport of football and the game of life.
Manager and Board Member of Babe Ruth Baseball.  I have coached little league and pony league baseball for the past 13 years.  I retired in August of 2012 and now serve on the pony league board as an executive officer/player agent.
Pool Maintenance Board Member of Windsor Crest Club, a Neighborhood Association
Original Founding Board Member of the One Foundation -  January 2005 to July 2014.  To create an environment that allows people with disabilities to enjoy the same opportunities as others to pursue and achieve their life's goals and interests.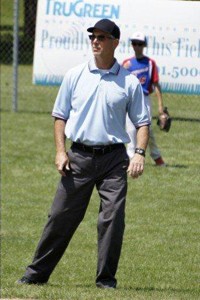 Jim doing some volunteer umpiring for the Davenport East Little League. Impressive! July 2014
---
Steve Forbes and John Schlifske on
"The Power of a Game Plan"
Northwestern Mutual hosted a speaker series with Steve Forbes, chairman and editor-in-chief of Forbes Media and John Schlifske, Northwestern Mutual chairman and CEO. The tour saw over 1,000 attendees and included panel discussions in Iowa City, Iowa; Cedar Rapids, Iowa; and Phoenix, Arizona. In Cedar Rapids, Steve and John shared their perspectives on the economy, the financial markets, and the importance of having a sound financial game plan in place regardless of market conditions. Key insights presented at the events were:
 
Getting to retirement is no longer the end goal - it is a new starting point. Schlifske and Forbes contend that today's economy coupled with increased life expectancy means there is an increased risk for individuals to deplete their assets too soon. A well-rounded plan is essential to help maintain financial security for life.
It is unlikely that individuals can solely invest their way to prosperity. Rather, Schlifske and Forbes believe in practicing proven financial principles, such as cutting spending, saving in addition to investing, and dollar-cost averaging for the long-term.
Regardless of what happens in Washington, D.C., there are plans that individuals and business owners can make now to ensure long-term security. Schlifske and Forbes encourage Americans to not let debate in Washington prohibit them from addressing their short- and long-term financial needs.
For more thoughts on these and other business topics, visit the Northwestern Mutual Special Feature on Forbes.com.
To view photos from this event, click here.